The Ultimate Guide to

Alif Fire Tube Boilers
Alif Boiler Company Ltd. specializes in the manufacture and supply of "fire tube boiler" systems. Our team of highly skilled engineers and technicians work tirelessly to ensure that our boilers are of the highest quality and meet all industry standards. With years of experience in the industry, we have established ourselves as a trusted name in the market, offering a wide range of "fire tube boiler" solutions to meet the needs of our customers. Whether you require a small capacity boiler or a large industrial-scale system, we have the expertise and resources to deliver the right solution for you. Our commitment to quality, reliability, and customer satisfaction has made us a preferred choice for businesses across various industries. Choose Alif Boiler Company Ltd. for your "fire tube boiler" needs and experience unparalleled performance and efficiency.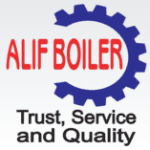 Boiler Company Bangladesh: Reliable & Certified Manufacturer and Supplier for Oil Gas Fired Steam Boiler, Coal / Biomass Fired Boiler, Thermal Oil Heater Boiler, Hot Water Boiler, and Electric Heating Boiler. With over 17 years of experience in boiler design, technique, production, installation, and operation.